A Pictoral tour of the eye clinic of HQE

Meet our paramedical staff.
The paramedical staff consist of Office staff, Medical assistants, Nursing staff and Optometrist. Presently the optometrist post is vacant.
The patients come to the registration counter and get a new card made or the old records are retrieved by Bessy, our clinic clerk, assisted by Medol and Biseh.
---
A view of the registration counter.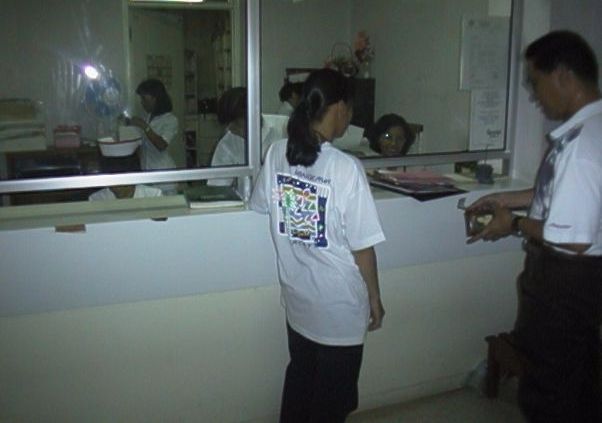 BACK TO TOP


The office clerk Betsy in her seat with TAN Jimis giving a helping hand.
The record room contains the case notes of patients arranged by serial number, for easy retrieval. Attendents Medol and Biseh know them like the back of their hand.
---
The prelimary examination consisting of visual acuity check and non contact tonometry is carried out by a team of Medical assistants (M.A.) consisting of

En. Voon
En. Awang
En. Joseph
En. Lim
and
En. Baidin.
In addition they do other investigative procedures like visual field assessment on Octopus automated perimeter, computerised automated refraction etc.
M.A. Joseph checking the distance visual acuity of a patient on a reverse snellen optotype.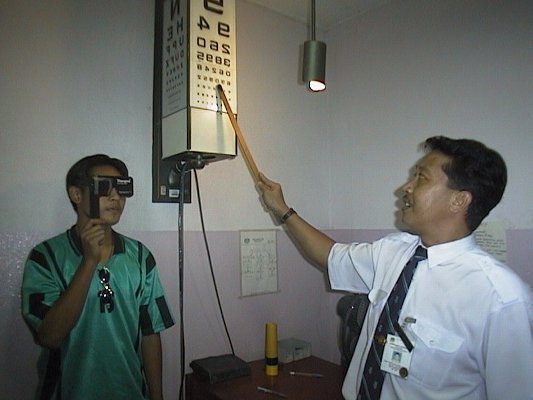 BACK TO TOP


All patients undergo intraocular pressure measurement by a Non-Contact Tonometer.
A young child in her mothers lap being examined by M.A. Louise.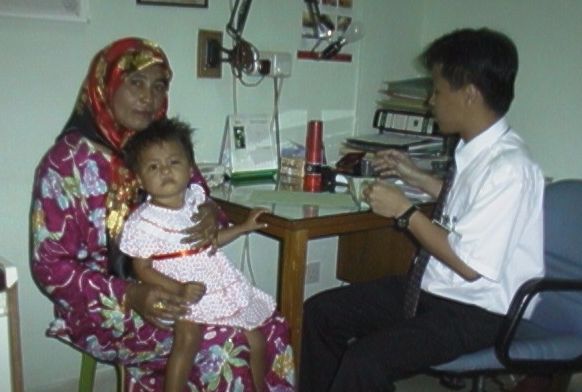 BACK TO TOP


The Medical assistants are trained to provide basic screening examination, including slit lamp examination.

M.A. Awang is seen here examining a lady.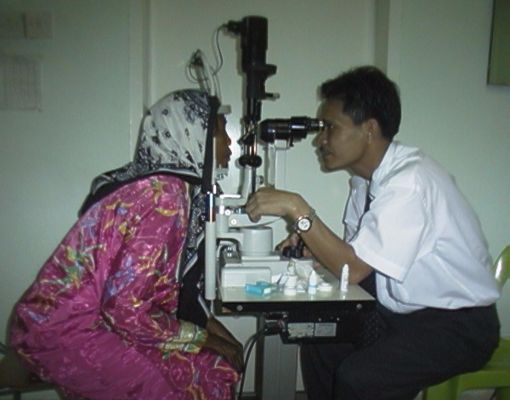 BACK TO TOP


---
The highly experienced and dedicated nursing staff is headed by
Staff nurse Fauziah, Staff Nurse Stella and assisted by

TAN Eugene
TAN Jimis
TAN Prisca
and
TAN Sabariah.

The cheerful presence of Staff nurse Fauziah calms the anxiety of all patients.
TAN Jimis is the smiling nightingale in the clinic.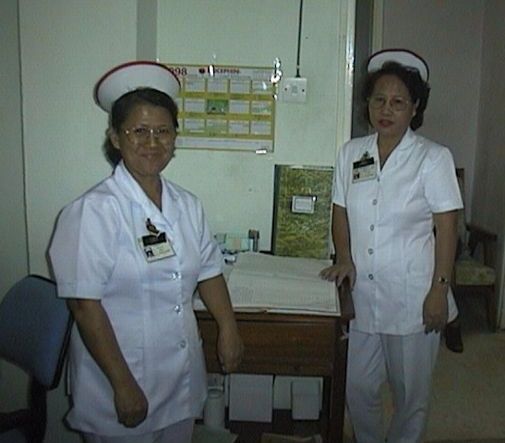 BACK TO TOP


TAN Prisca and TAN Sabariah bring efficiency to the clinic work
MEET THE DOCTORS WORKING IN THE EYE CLINIC
---
Page maintained by Dr. Sanjay Dhir, dhir@tm.net.my. Copyright(c) Dr. Sanjay Dhir. Updated: 24/10/1999